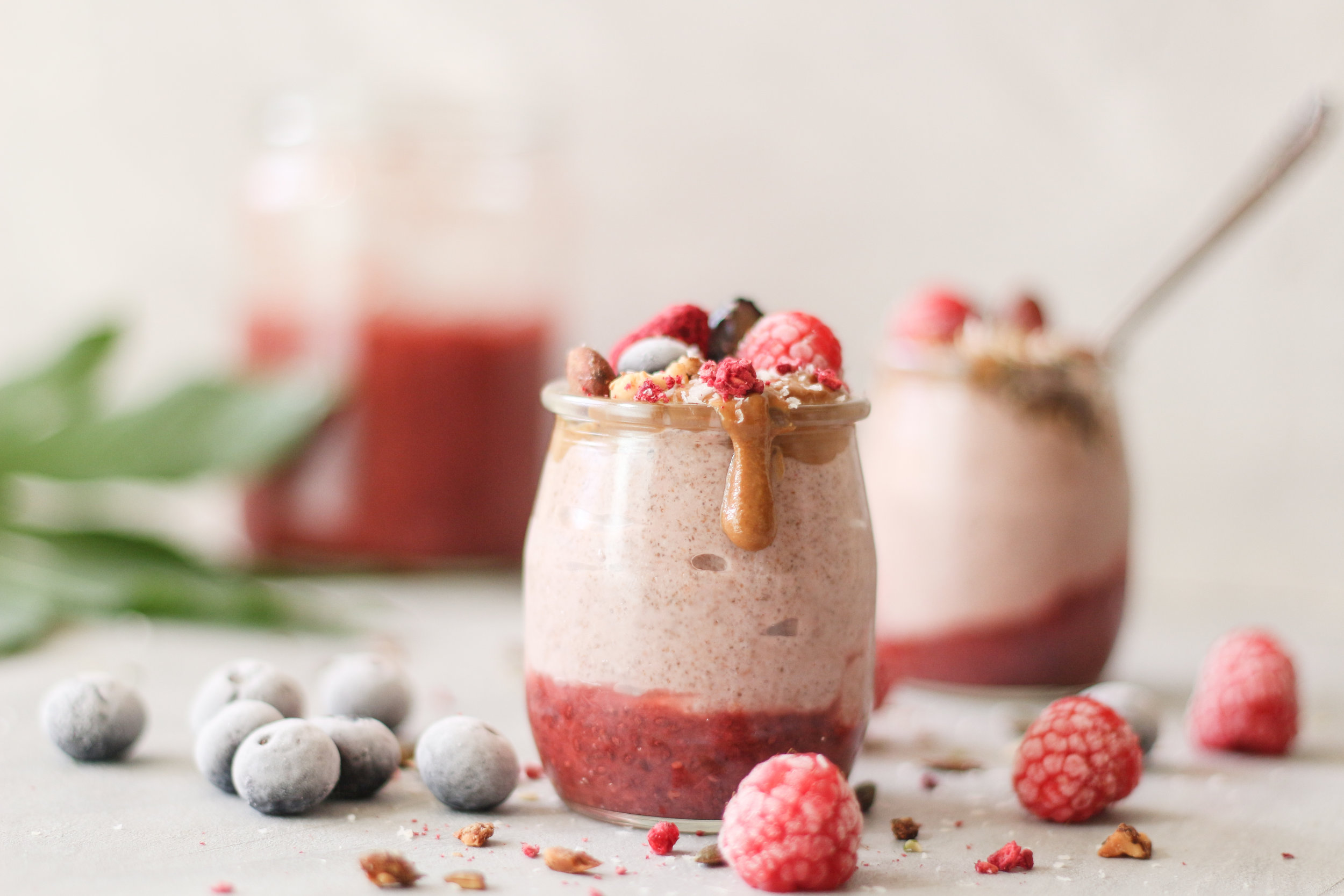 The Ultimate Breakfast for Health & Wellness
How do you start your day? Breakfast or no breakfast? Eggs and bacon? Cereal and milk? Is your first meal of the day setting you up for success or are you feeling groggy and bloated by lunch?
Did you know that 30% of your energy is spent on digestion?
Did you know that after a night of sleep we all wake up dehydrated?
Did you know there is breakfast which can provide you with all your recommended vitamins, minerals, antioxidants as well as a balanced source of protein, fat and carbohydrate?
Smoothies
A daily smoothie is a great way to re-hydrate, give your digestive system a highly nutritious meal but without over taxing it first thing in the morning and nourish your body to the deepest level. A smoothie allows your body to gently wake up without spiking blood sugars. Its something which is quick and easy to make - and can be drunk on the go. Its a simple change which I truly feel can make a big difference to everyone's health.
How to make a smoothie - a simple guide to building deliciousness
Start with a base - pick 1-2 cups of vegetables (yes I know it feels weird to drink a vegetable but honestly it is so good for you and tastes great too). For example:
Spinach

Cauliflower

Kale - avoid if you struggle with bloating and gas

Watercress - great for reducing histamine levels!
Run out of veggies to add? Prefer not to add fresh leaves? Try a greens powder like the Daily Fruit & Vegetable Blend which provides you with 22 organic fruit & vegetables in powdered form.
Add a liquid - 1/2-1 cup of water and 1/2-1 cup of alternative milk. For example:
Coconut milk

Almond milk

Oat milk

Tiger nut milk
The reason I suggest these and not cow's milk or soya milk is that cow's milk and soya are two of the most commonly seen food intolerance and sensitivities. So unless you know for sure that you can tolerate these products please give them a miss. Also be sure to buy organic to avoid unnecessary fillers, preservatives, pesticides etc.
Add nutritional supplements and protein powders - There are lots of different brands out there. You are welcome to use any vegan protein powder and then add vitamins and minerals separately. But my preference is for the Daily Nutritional Support Powder, which provides 100% of your vitamins, minerals, electrolytes, antioxidants and a select blend of herbs to support the phases of liver detox.
Add a fat - depending on your body goals add 1-3 tablespoons of a fat. For example:
Coconut cream

Avocado

Nut butters

Seeds - like flax, sunflower, pumpkin etc
When using seeds just make sure they are ground up fresh as they oxidise and loss nutritional value quickly.
Add a fruit - 1-2 cups of low glycemic fruit. For example:
Blueberries

Blackberries

Cherries

Raspberries

Kiwi

Strawberries
Aim for low glycemic fruit to prevent blood sugar spikes first thing and where possible use organic produce.
That's it! Simple! Obviously this can be customised even further to include for example:
Vitamin D Drops - I'd advise everyone to use these but especially women, children & over winter.

Tumeric, cinnamon, ginger or any other spices with immune boosting properties.

Collagen Powder - to support healthy joints and connective tissue.

Probiotics - I add the powder from one probiotic capsule to my son's morning milk as he's too young to swallow capsules.

Seed cycling - This involves using certain seeds to support a woman's hormones and menstrual cycle - I plan to do a blog post of this topic soon!
The smoothie really is the ultimate Do It Yourself breakfast, add foods you love, experiment with ingredients and drink over an hour for the ultimate slow release energy boosting nutritious breakfast around. My personal favourite is the following:
Chloe's Favourite Smoothie
Ingredients:
1 cup spinach

1 cup organic coconut milk

1 cup filtered water

2 scoops Daily Nutritional Support Powder

2-4 drops of Vitamin D Drops

1/2 tablespoon of Flax or Sesame Seed

1/2 tablespoon of Pumpkin or Sunflower Seeds

1/4 teaspoon Turmeric Powder

1 cup frozen Black Forest Fruits berry selection
Combine ingredients in a smoothie maker or blender.
Blend until smooth - you can use the liquid amounts above for a liquid smoothie drink or use less water to make a smoothie bowl. Either way its Delicious!
Pour into your favourite cup or bowl and enjoy!